Posted by Aaron on 30th Mar 2018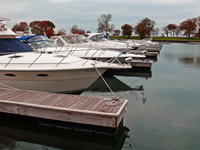 Mooring for the fall and winter seasons can be stressful. The days get shorter and busier. Time on the boat gives way to full and chaotic schedules. And as you know, the longer you leave your boat unattended in the elements, the more likely it is that a little bit of damage can grow into a full blown disaster. This is particularly stressful when you don't have the money to buy the necessary items to protect your boat. But, that's a catch 22, because if you don't spend the money now, it will cost you more to fix off-season damage next spring.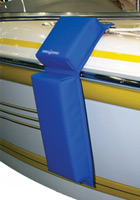 When it comes to boat fenders, however, there is actually a cost effective solution. Hull Hugr boat fenders provide a unique design to protect your boat from bumps and bruises without breaking the bank. These fenders are made from durable marine grade vinyl and cell foam padding sealed with nylon tri-laminate. In fact, a number of boat owners who use them argue that they provide better protection than traditional fenders.
Let's take a look at two different types of Hull Hugrs and what they have to offer.
Hull Hugr contour boat fenders hinge conveniently to wrap around the gunwale and hull by following the contours of the boat. The double grommet design allows for convenient vertical or horizontal hanging. Unlike traditional boat fenders, they fit flatly and snugly to the sides of a boat to prevent rolling.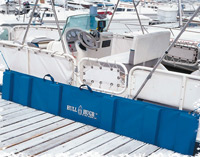 The Hull Hugr folding flat boat fender covers the same area as six traditional fenders, while providing superior protection. The flat construction of this fender also means it will not roll, and it leaves no exposed spaces where the dock can damage your boat. It may seem like a rather bulky item to keep onboard, but the folding design makes it quite easy to stow. Covered with marine grade UV resistant vinyl / polyester tri-laminate, these flat boat fenders are both strong and puncture resistant.
Do you have any experience with Hull Hugr fenders? Please feel free to leave a comment about it. Do you have any questions? Ask them here, and I would be glad to help you find the answers. Do you have other questions about boat fenders or other boating topics, check out our help guides: Product Help Guides > Fenders & Buoys Help Guide