14th Nov 2019 | Posted by Savvy Boater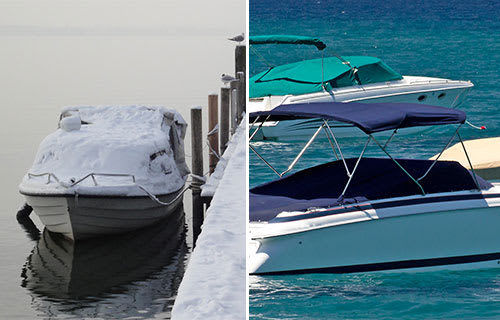 When choosing a boat cover for your boat (You ARE covering your boat aren't you?), the fabric you choose is a critical consideration. Depending on the weather in which your boat is stored, the cover fabric can make the difference between a cover that effectively protects your boat for years and one that just doesn't do the job.
If you live in a sunny climate you'll need a cover fabric with exceptional UV protection. Does the weather get a little humid? You'll want a cover made from a breathable, mildew resistant fabric. If you've set up shop in an area that gets heavy rainfall, or your boat sits under snow, your primary concern will be the cover's strength, weight and resistance to penetrating water. While no material will meet every need in all scenarios of weather, care and use, you should be able to choose a fabric that meets the majority of your needs.
Poly/cotton boat covers, like Double Duck, will do the trick if your boat is stored in a covered facility out of adverse weather conditions. Double Duck provides good breathability and most of these covers are treated to inhibit mold and mildew and offer some UV protection.
An acrylic-coated polyester cover, like Sharkskin will give you increased UV resistance, plus a big boost in water repellency. This is the most popular material for semi-custom boat covers due to their high durability, not to mention their modest price.
Performance Polyguard fabrics are 100 percent polyester, provide very good water resistance and offer a fair amount of UV protection. They're strong and durable! They won't stretch or shrink! There's also a moderate level of breathability thrown in for good measure.
Let's say you're planning on going all in and springing for a custom fit cover for your specific make, year and model of boat. If you've come this far, you're going to want an acrylic boat cover like Sunbrella. A special weave of acrylic fibers allows this fabric to be not only water-resistant, but breathable, while producing above average strength. Sunbrella is also mildew resistant, colorfast and comes with a 10-year warranty.
Whether your boat is being covered from Maine to Mexico or from the Pacific Northwest
to the Gulfstream waters, Savvyboater.com has a fabric that's just right for you.