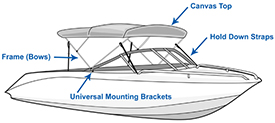 What does 2, 3, and 4 bow mean?
The bows of the bimini top are the parts of the frame that connect from side to side over the width of the boat. Bimini tops are equipped with either 2, 3, or 4 main bows.

The smallest style offered—mostly used for shorter Jon style fishing boats, V-hull fishing boats, and inflatables—is the 2 bow bimini top.

The most commonly used bimini top is the 3 bow. This bimini top style is recommended for V-hull runabouts, ski boats, performance boats, and most center consoles.

The largest bimini top carried by SavvyBoater is the 4 bow, which is reserved for larger boats, such as pontoons or deck boats.
How do I mount my bimini top?
For standard bimini tops drilling is required, as the bimini is mounted onto the top or on the outside of the boat. For pontoon bimini tops, which are mounted onto your pontoon's side rails, drilling is also required. For tower bimini tops no drilling is required. Instead, the bimini clamps directly onto the boat tower itself.
How fast can I go when my bimini top is deployed?
You can safely deploy and use your Carver bimini tops while operating at speeds of up to 35 MPH, and up to 45 MPH for Westland. If you would like to go faster with your top up, we recommend thru-bolting.
How do I thru-bolt my bimini top so that I can go faster than 35 MPH with it up and in use?
If you have nylon fittings you'll first need to replace them with stainless steel fittings.

The next step is to thru-bolt the connection points of the bimini to the boat—the front and rear eye straps, as well as the deck hinge. In order to thru-bolt, you'll need a longer bolt that travels completely through the fiberglass and reaches to the underside. For added stability and security, we recommend adding an extra washer and nut.

Lastly, check the top for stability, ensuring the front of the top is angled downward. If it isn't, pull the front hold-down straps tight in order to change the angle. As always, check all straps and fittings for tightness before using your bimini top at speeds higher than 35 MPH.

*Note: Thru-bolting will allow you to operate your boat at speeds of up to 45 MPH with the top still up. Keep in mind wind speeds and adjust your speed accordingly. Whenever trailering your boat, your bimini top should be laid down flat.