Westland Bimini Tops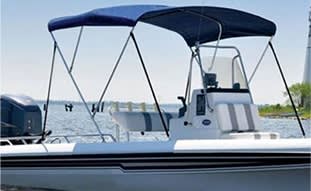 Throw some shade on your boat deck with one of Westland's bimini tops. Westland's collection of high-quality boat bimini tops provide a necessary escape from the sun's rays, which means more time on the water! Westland's Sharkskin™ and Sunbrella® bimini tops are constructed with fabric that is designed to make sure your skin is protected from the sun's intense rays. These tops not only protect you from the sun, they also protect your boat from fading and premature wear. Easy to install, so you can be on the water doing what you love in no time at all.
Westland's products are handsewn in the USA with Sharkskin™ and Sunbrella® marine fabric. Make sure you select your boat, make and model in our finder to ensure you get the perfect bimini top for your boat.
Search By Width, Height, Length
Easy to install, essential for sun protection, and the ideal boat accessory during summer thunderstorms, Westland Bimini Tops are a must for every serious boater. Buy a Westland Bimini Top for your boat and enjoy countless features and options.
Features
90° swivel hinge for different mounting options
FREE storage boot with all biminis (except the ST Series)
Easy to follow 2, 3, and 4-bow bimini installation instructions
Anodized aluminum frame tubing
Corrosion-proof nylon or stainless steel fittings
Sharkskin, Sharkskin Plus, Sharkskin Supreme, and Sunbrella fabrics (all made in the USA)
Superior Design & Construction
Made in North America
Over 30 years of industry experience
Up to 10-year fabric & 1-year frame warranty
Variety of Fabrics & Colors
Three durable fabric types rated from "good" to "ultimate," and available in 26 colors
All fabrics are water repellent and mildew resistant
Up to 10-year warranty based on fabric selection
Fade proof Sunbrella fabric is made in the USA
Check out our Video Library
Carver Bimini Tops:
How to Install
Carver Bimini Tops:
How to Assemble
Bimini Tops:
How to Measure Your Boat