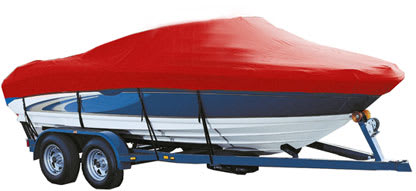 Boat Covers

A boat cover is an essential part of maintaining your boat in top shape. The cover will help to protect the boat from rain, snow and UV rays when not in use, and from dust and road grit while being towed. Boat covers come in several types and brands, ranging from a basic utility cover for a simple but low-cost cover choice, to a top of the line custom snap cover generally made for your exact boat at a much higher price.
Carver
Boat Covers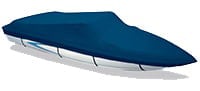 Free tie downs and storage bag
Wide range of fabrics
Made in USA
Westland
Boat Covers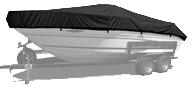 Free tie downs on custom covers
Variety of fabrics and colors
Made in North America
To find a Semi-custom cover for your boat, simply scroll down the page to find your boat style. Select the style that best matches your boat to find a range of covers for that style. Narrow that list by selecting your boat length, beam, fabric preference, and other factors to find a semi-custom cover that will work well for your particularly boat. Benefits of a semi-custom boat cover include:
Provides the same protection as a custom cover, at a lower cost.
Fit based on boat type, length, and width
Can accommodate trolling motors, swim platforms, etc.
Great for trailering, mooring, & storage
Savvyboater offers a wide range of covers from two of the top boat cover brands, Carver and Westland. Carver covers are manufactured in the USA and Westland covers are manufactured in North America, so lead times are generally short and finish quality is high. Both brands offer top quality boat covers in an array of high-quality fabrics and fit options. The fit you choose for your boat cover will depend on your needs.
Our custom boat covers are designed specifically for the make, model and year of your boat. This choice is excellent for travel, storage and mooring and has padded reinforcements at key stress points for added durability. If you are looking for a slightly more economical option, our semi-custom boat covers are a great alternative as they can also be used in trailering, storage and mooring. These covers are not customized to your specific boat but are designed and fitted to your boat style, length and width.
Additionally, Carver offers an assortment of universal fit boat covers that are excellent for storing your boat but are not recommended for trailering or mooring.
Both brands offer boat covers for the most popular boat styles like pontoon boats, tournament ski boats, and wide bass boats and for less common styles like day cruisers, tri-hulls, and jet boats. All Carver covers do come with free tie-downs and storage bag with support poles offered as popular options. Westland offers free tie-downs with the purchase of one of their custom boat covers.
To find the right boat cover for your boat simply input your boat's make model and year into our boat cover finders or select the type of boat you have for covers designed for that boat style. Be sure to follow our measuring guidelines for a great fit and select a fabric that's ideal for your climate. See our Help Guide below for additional information on choosing your boat cover.