2nd Jan 2020 | Posted by Savvy Boater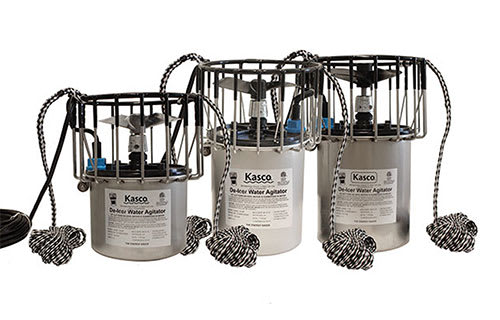 The winter months can mean very cold weather in many parts of the country, which is exactly why a Kasco Marine De-icer can be the best present you can give your boat or dock. Ice can wreak havoc with boats and docks by crushing hulls or damaging dock pilings. A dock de-icer is an excellent tactic in minimizing if not eliminating the ice damage to your boat or dock. One of the top de-icer brands available is the made in the USA Kasco Marine De-icer .
Kasco Marine De-icers are designed and manufactured with a heavy-duty motor which is surrounded by a stainless-steel protective case. These marine de-icers use a propeller system to create current around your boat or dock which lifts warmer water from the bottom of the surface so that it can dilute and eliminate the ice.
Kasco De-icers offer a variety of horsepower and cord lengths for both 120 and 240 volt connections. Mounting options include the standard two rope suspension mount in addition to a dock mount or float mount alternative.
Quick Comparison Guide
Kasco De-Icer Model
Motor
Voltage
Running Amps
Thrust
Typical Cleared Area*
2400D
1/2 HP
110-120V
5.7
31 lbs.
Up to 50' Diameter
3400D
3/4 HP
110-120V
6.6
36 lbs.
Up to 75' Diameter
3400HD
3/4 HP
208-240V
3.1
36 lbs.
Up to 75' Diameter
4400D
1 HP
110-120V
9.1
44 lbs.
Up to 90' Diameter
4400HD
1 HP
208-240V
4.4
44 lbs.
Up to 90' Diameter
*Extreme winter conditions may result in a smaller open diameter.
Kasco Marine De-icers feature a complete package when ordering which includes the assembled motor unit, two 20-foot braided nylon mooring lines and the power cord. These de-icers are energy efficient with excellent gallons per minute/kilowatt rates. The motor unit is manufactured with two long life bearings and thermal overload protection in a heavy-duty carbon ceramic mechanical seal. Kasco Marine De-icers can be utilized in the winter months as de-icers and in the summer months to aerate and freshen the water around boats and docks.
Kasco De-icers are an excellent value as they are the most energy efficient de-icer on the market; their 360 degree flow past the impeller provides superior thrust for a wider clearing area; they are affordable in cost and Kasco Marine De-icers are manufactured in the USA.
Still not sure about purchasing a dock de-icer? Simply weigh the benefits of a dock de-icer against the costs of ice related boat or dock damage. And then look at the fact that Kasco Marine De-icers are engineered and specifically designed for continuous duty in the harshest of environments. Easy to install, a Kasco De-icer is ready to get to work as soon as it is suspended from your dock, boat or pier and plugged into a properly grounded and GFI protected 15 amp outlet. No additional lubrication is needed for the motor of your Kasco Marine De-icer as the motor is an oil-filled design with the ball bearings already submerged in oil and equipped with thermal overload protection and an automatic reset. The Kasco De-icer comes completely assembled with no need for additional tools or hardware (if you have purchased an optional mounting device you will need tools and hardware). Kasco De-icers are energy efficient, lightweight and easy to operate.
Wondering what to do with your de-icer during the warm summer months? You can either use it to aerate the water around your dock or in your pond or you can store it upside down in your storage unit. Why upside down? Dock de-icers that sit upright for many months or even years have a greater chance of the seals drying out. Storing your Kasco De-icer upside down bathes the seals in oil to maintain the unit in top operating condition.
A product is a direct reflection of a company and Kasco strives to provide excellent products and excellent customer service. More than forty years ago a marina operator based in Minnesota who was dealing with the winter harshness of that beautiful state introduced the world's first de-icer. Kasco was formed and is still an industry leader in the dock de-icer and water aeration markets.
Kasco Marine De-icers - a top choice for a marine deicer or water aerator.