Bimini Tops for Correct Craft Boats
Our Bimini tops are built for years of sun protection
SavvyBoater has a Bimini top that will make your Correct Craft look great while keeping you and your passengers cool. A Bimini top is a great, inexpensive way to add shade when you need it (raise and secure in just seconds) and stores away nicely when not in use. Make time spent in your Correct Craft boat more enjoyable and enjoy longer hours out on the water.
Available in many sizes, each Bimini top comes with everything you need. Your boat may have come with a Bimini top, but that doesn't mean it's the ideal one. Sometimes a manufacturer or previous owner may have installed a Bimini top that looks too small or leaves some passengers exposed. Keep in mind a typical passenger's height and the shifting nature of the sun when deciding how tall your Bimini top should be.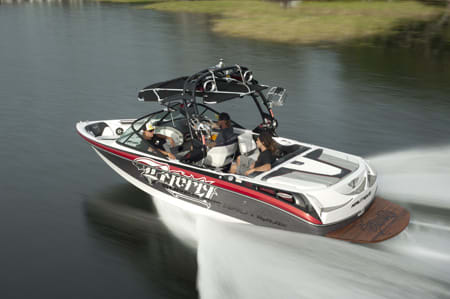 Use Our Easy Bimini Top Finder
Search By Width, Height, Length
Compare Our Brands
Made in USA
Strong double-wall main bow
4-ply reinforced seams
Anodized aluminum or stainless steel frame tubing
FREE Storage boot
Specialty bimini tops for pontoons, towers, & inflatables
Up to 10-year fabric & 5-year frame warranty
Learn more about Carver Bimini Tops
Made in North America
Corrosion-proof nylon or stainless steel fittings
90° swivel hinge for mounting
Anodized aluminum frame tubing
FREE Storage boot (except ST series)
Over 30 years of industry experience
Up to 10-year fabric & 1-year frame warranty
Learn more about Westland Bimini Tops
FAQs
We've got answers to all your frequently asked bimini top questions!
Click here to browse the guide or reach out to our customer service team anytime.
Why Shop SavvyBoater
Shipping in Continental US
Outstanding Customer Service
Top quality brands
Always Low Prices
International Delivery Available
Authorized Retailer for Every Brand
Correct Craft Boat Models
Correct Craft 176 Closed Bow
Correct Craft Air SV211
Correct Craft Nautique Excel
Correct Craft 196 Ski
Correct Craft Air Tique
Correct Craft Nautique Excel Bowrider
Correct Craft 226 Limited
Correct Craft Barefoot Nautique
Correct Craft Nautique Excel Closed Bow
Correct Craft Air Nautique
Correct Craft Crossover 200
Correct Craft Nautique Super Sport
Correct Craft Air Nautique 196
Correct Craft Crossover 216
Correct Craft Pro Air Nautique
Correct Craft Air Nautique 206
Correct Craft Crossover 226
Correct Craft Ski Nautique
Correct Craft Air Nautique 210
Correct Craft Crossover 230
Correct Craft Ski Nautique 176
Correct Craft Air Nautique 211
Correct Craft Crossover 236
Correct Craft Ski Nautique 196
Correct Craft Air Nautique 216
Correct Craft Crossover Nautique 211
Correct Craft Ski Nautique 196 LTD
Correct Craft Air Nautique 220
Correct Craft Crossover Nautique 216
Correct Craft Ski Nautique 200
Correct Craft Air Nautique 226
Correct Craft Crossover Nautique 226
Correct Craft Ski Nautique 2001
Correct Craft Crossover Nautique 236
Correct Craft Nautique 211
Correct Craft Nautique 206
Correct Craft Nautique
Correct Craft Nautique 220
Correct Craft Nautique 210
Correct Craft Nautique 196
Correct Craft Nautique 226
Correct Craft Nautique 236
Correct Craft Nautique 230