27th Sep 2019 | Posted by Savvy Boater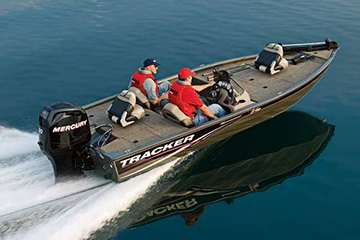 Congratulations! You've been wanting a quality fishing boat, so you did your homework and decided on a Tracker. Great choice! You're ready to get out on the water, right?
Not quite. Now it's time to think about how you'll protect your investment with a quality boat cover. We have two of the best boat cover brands specifically designed for Trackers, Carver Covers and Westland Covers, are available. Besides brand, you'll want to compare price, coverage, fit and durability.
But first, let's look at your specific boat model.
The Tracker Models
Tracker boats come in three main designs: Mod V, Deep V and Grizzly.
The Tracker Mod V combines a sharp bow for performance with a flat transom for stability. The Pro Team ™ hull incorporates a variable deadrise and set-back transom for a fast, but smooth, ride.
The Tracker Deep V is a great choice for combining fishing and family fun. Its sharp deadrise slices through waves, tapering to a moderate angle at the transom for stability and comfort. This model offers big water anglers the features they want without limiting comfort.
The Tracker Grizzly Jon boat is in a class all its own. An all-welded design means this rugged boat will do whatever you need a flat-hulled boat to do, whether you're fishing or hunting waterfowl.
Each model requires a specific cover for its hull shape. Size and seat location also help determine the design. Yet there's a lot more to choosing a cover. Here are a few considerations that will help you decide on the right cover for your Tracker.
Fit Options
Boat covers come in two basic variables, custom or semi-custom.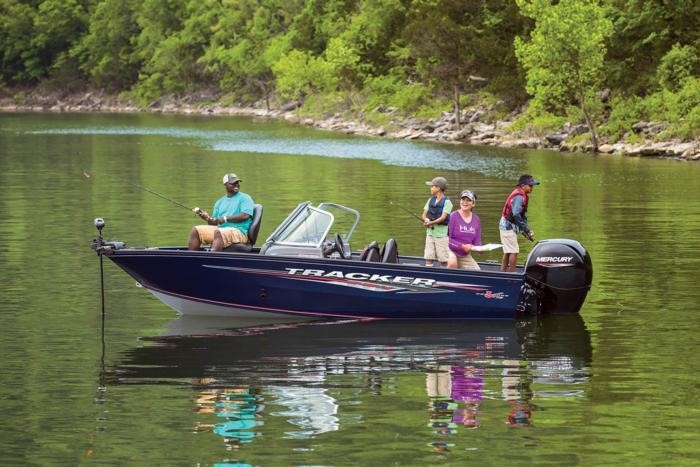 The difference can be thought of the same way as formal clothing. You may choose to go to a department store, where you can buy a suit or dress right off the rack. The store employee will help you find the "right size" according to your height, waist, bust, and leg length. These measurements are all helpful. But everyone is shaped a little differently. The suit will only fit just so well.
On the other hand, if you bring that suit or dress to a tailor, he will take it in at all the right places so that it fits your unique dimensions just right. Better yet, if you have the clothing custom made, it will be cut and sewn exactly to your dimensions. Of course, you'll also pay more because of the work that is required, but it may be worth it.
Similar options are available for your Tracker. A custom cover will provide an exact fit for your Tracker boat. This is an excellent way to go if you will be trailering your boat. A semi-custom cover, on the other hand, can be used by multiple boats of the same hull style. It will also work fine on a trailered boat, as long as it's secured properly. Besides look and functionality, the difference between the two options is, again, price. A custom fit cover will cost more which is an important consideration.
Fabric Options
Boat covers come in a variety of fabrics -- from cotton to acrylic. The type you choose will depend on your preference and budget.
With fabric, we're no longer just talking about how well it covers. The main consideration is how well the fabric protects against moisture and debris, while at the same time allowing moisture inside to escape (breathability).
Duck is a tightly woven canvas made of cotton. It provides breathability, but not the best protection, especially from heat and UV rays. Its inexpensive price tag is probably the major consideration for boaters. There are cotton-polyester blends as well, but they do not add the kind of protection fully synthetic fabrics can.
The next line are the polyester fabrics. Their protection varies widely, from Sharkskin Plus (acrylic coated polyester) to SunDura. These fabrics work well against intense UV rays as well as high humidity and saltwater conditions.
Topping the list are covers made with acrylic. Sunbrella is probably the most common name associated with this kind of fabric. In comparison ratings with a high score of 5 in six categories – breathability, water repellency, mildew resistance, UV/fade resistance, colorfastness and durability – it scored 4.83. It also comes with a ten-year warranty, far better than the rest.
Since your cover's fit and protection rating can make a big difference in the way your boat ages, the kind you buy should be carefully considered.
Accessories
When purchasing accessories for your boat cover, the same advice holds true as with all your other marine purchases: equipment should come from a marine supplier. Many accessories you can't find at the local hardware store, such as cover support systems. Others, like straps, cinches, mounts and braces, are often not designed with water in mind, especially saltwater. You'll want to find boat cover accessories specifically designed for boats, like those from Carver and Westland.
Cover Brand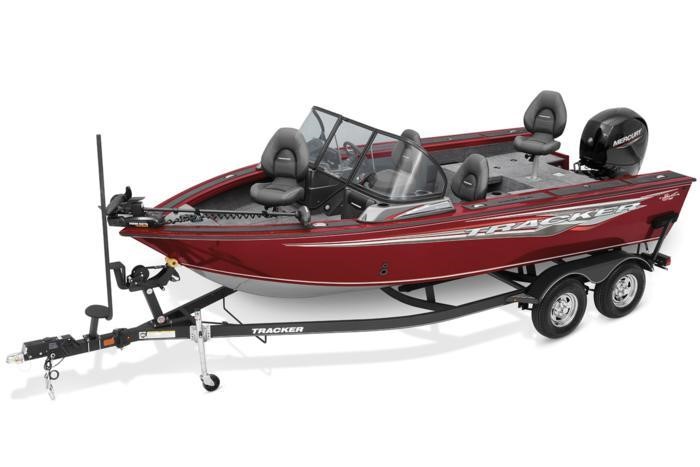 While there are a number of boat cover brands that will make your boat look as good fully clothed as bare, Carver and Westland are at the top of the heap. Both offer a variety of fit and fabric categories to meet your needs and budget. They also offer a wide range of accessories. Each has been around for decades, so you can feel confident you're getting the best advice and quality.
Whether you just bought your Tracker, or you're looking to replace a worn cover before the snow flies, it's smart to get some advice from an online retailer like SavvyBoater.com. After all, you want your baby to be dressed right, don't you?
* SavvyBoater - www.savvyboater.com - (866) 560-1330