de-icers & ice-eaters buyer guide

Why Do I Need a De-icer?
Basically, "de-icers" and "ice eaters" are designed to prevent and remove ice by providing a continuous flow of warmer water to the surface. A propeller, driven by a small but powerful motor, agitates and draws warmer bottom water up to the colder water on the surface. The resulting water movement and temperature differential not only prevent ice from forming but can help melt existing ice. It's a simple concept that is extremely effective – and important!

Without a de-icer, your dock, boat, slip, or marina are vulnerable to severe damage from ice formation and expansion. Simply put, a de-icer or ice eater is your best insurance policy against costly and time-consuming repairs. Don't wait for temperatures to drop – protect your investment with a de-icer or ice eater today.
Why Do I Need a Thermostat?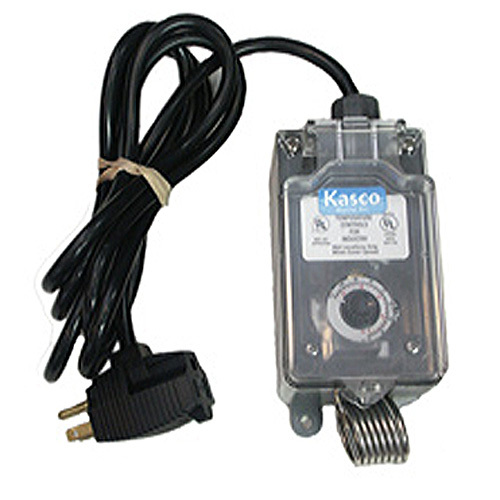 The C-10 Thermostat is an inexpensive way to control the operation of your Kasco De-icer by using air temperature. The C-10 plugs into a standard 120V outlet and allows you to set an air temperature setting. When the air temperature drops below that setting, the C-10 will turn on the De-icer and off again when the temperature rises, saving money on costly electrical bills. You can set the turn on temperature anywhere from 0 to 80 degrees. Once the temperature has risen 4 degrees above that start temperature, the unit will turn itself off. Savings example: Using a Kasco 1/2hp, 2400D De-Icer and a C-10 Controller, you can avoid the hassle and expense of removing your dock and boat from the water for as little as $15 per month! Designed for use with Kasco 120V AC De-Icers.
Important:
The C-10 is designed to operate only one Kasco De-icer. Daily observation is required for all de-icing installations. Any electrical equipment should be plugged into a GFCI-protected outlet or circuit for safety, especially in water. It is never a good idea to be in the water with electrical equipment in operation or even plugged in. Also, make sure to test the GFCI breaker in the circuit once a month to ensure proper operation.
Kasco Thermostat Installation Instruction
De-icer Applications
Boats, Docks, Piers and Marinas
De-Icers prevent or eliminate ice formation, creating an ice-free area around your boat, slip, dock, or pier to prevent damage from ice jacking and expansion during the cold winter months.

De-icers can also protect fish and other aquatic species in your marina during the winter by creating ice-free areas for oxygen to enter into the water.
---
Duck Hunting
A de-icer mounted on a frame specifically designed for duck ponds will quickly clear any ice and prevent its return.

By properly adjusting the de-icer, you can create water movement for realistic, life-like decoy movement to attract more waterfowl to your favorite hunting spot.
---
Improve Water Quality
The aeration provided by a de-icer can reduce foul odors in stagnant water, encourage natural decomposition of organic matter and pollutants, and improve the overall health of fish and other organisms. De-icers can also direct water flow so debris and nuisance vegetation are funneled to one area, making trash removal simple.
---
Winterkill Prevention
Heavy snow and ice limit the amount of light penetration in your pond causing plants to die, which results in decreased oxygen levels. Without oxygen, your fish will also die.

By upwelling warm, bottom water to the surface, a de-icer can create an open water area in your pond to maintain safe oxygen levels and prevent a winterkill situation.
---
Water Towers
Protecting a water tower from costly ice damage when water demand is low and turnover rates are slow can be easy and cost-effective with a de-icer.

Managing the ice in your tower will allow you to protect the coating, help prevent ice fall which can collapse the tower, and improve mixture rates for more uniform temperature and chemical profiles.
How to De-Icers Work?
5 Things to Consider When Buying a De-Icer
1. Location and Size
Geographic location and the size of the area to be cleared are very important factors in determining your de-icer needs. The lower the temperatures fall over a longer period of time, the less area a single de-icer will be able to clear. So regions with typically long and extremely cold winters, like Alaska and Minnesota, will generally require a de-icer with more horsepower to protect an ice-prone area. Factor in the size of the area to be cleared, and you may find that multiple de-icers are necessary.


Area Cleared by Temperature Range (Circular & Elliptical)
Horsepower
34º to 20º F
(1.11º to -6.66º C)
19º to 0º F
(-7.22º to -17.77º C)
-1º to -20º F
(-18.33º to -28.88º C)
-21º F & below
(-29.44º C & below)
1/4 HP
55' diameter
25' x 90' ellipse
40' diameter
20' x 50' ellipse
35' diameter
20' x 40' ellipse
25' diameter
15' x 30' ellipse
1/2 HP
65' diameter
30' x 100' ellipse
50' diameter
25' x 60' ellipse
45' diameter
25' x 50' ellipse
35' diameter
20' x 40' ellipse
3/4 HP
85' diameter
35' x 120' ellipse
70' diameter
30' x 80' ellipse
65' diameter
30' x 75' ellipse
45' diameter
25' x 50' ellipse
1 HP
95' diameter
40' x 150' ellipse
80' diameter
35' x 90' ellipse
75' diameter
35' x 85' ellipse
55' diameter
30' x 60' ellipse
2. Water Type
Temperature varies among different types of water. For instance, the more salt in the water, the lower the freezing point. So fewer units may be needed in sea water or brackish water applications than in fresh water. We suggest a quick online search to determine the average high and low winter temperatures for the specific body of water in which you wish to install a de-icer.
3. Water Depth
De-icers work by moving warmer subsurface water up to the colder surface water. The deeper the water, the more warm water will be available to de-ice the area. However, if the water is too deep, the rising warmer water will not effectively spread at the surface. Likewise, mounting your de-icer in shallow waters can reduce its effectiveness due to limited availability of warm water, especially during a long winter. Warmer water is more important than surface circulation in colder climates, so you may want to consider installing your de-icer or ice eater in water that is a bit deeper in these areas.

To achieve maximum performance and successful de-icing efforts, water should typically be at least 4'-6' deep for vertical installation, and slightly shallower for angled operation. For colder climates, consider installing your de-icer in water that is at least 6'-8' deep. In all cases, the de-icer should be at least one foot off the bottom to prevent clogging from debris.

When dealing with tidal influences, you'll want to split the difference in water depth so the de-icer is in shallow water at low tide and deep water at high tide (one option is to mount your de-icer to a boat or floating dock which will allow the de-icer to rise and fall with the tide).