23rd Jul 2019 | Posted by Savvy Boater
There are few boat brands that can compare to the prestigious Boston Whaler with its innovative design, quality craftmanship, and a strong focus on safety. If you happen to be the proud owner of one of these American made boats, then you will want to protect your investment by purchasing a boat cover constructed to the highest of standards.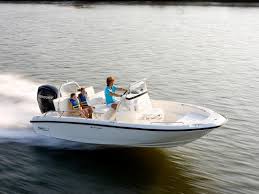 Here at Savvy Boater we sell top quality boat covers for just about every model of Boston Whaler out there. Whether you have a Supersport, Dauntless or Montauk, we have the cover for you! We offer custom and semi-custom boat covers from 2 industry leading brands – Carver and Westland.
Boston Whaler Custom Boat Covers
If you are looking for an exact fit for the make model and year of your Boston Whaler, you will want to purchase a custom-made boat cover. While these covers are generally the more expensive option out there, they are customized to your unique boat for a perfect fit. This is ideal if you happen to have a highly specialized boat such as a Boston Whaler 150 Super Sport with ski tower, bow rails and side rails.
Custom boat covers offer the ultimate protection for your Boston Whaler for trailering, storing or docking. These cover come in an assortment of marine grade fabrics, including top of the line Sunbrella, and over 48 color choices.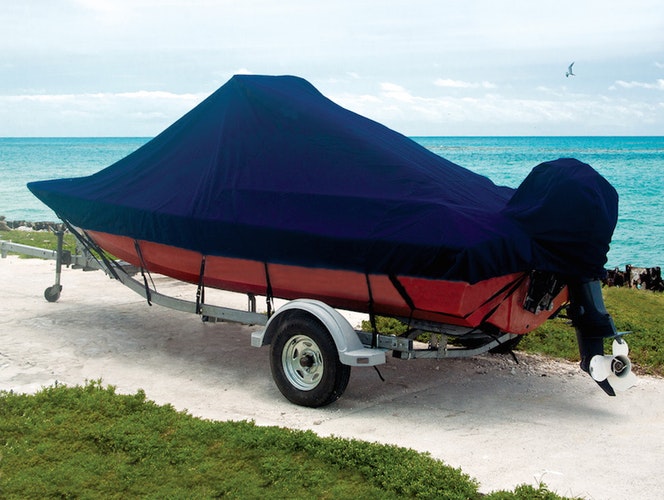 Boston Whaler Semi-Custom Boat Covers
If you are looking to save a little money and are not too concerned about an exact fit, then a semi-custom boat cover for your Boston Whaler could be right for you. These covers are styled to fit specific hull sizes. A semi-custom cover is a good option when your boat does not have protruding accessories - and the great news is, they can also be used for trailering when properly tied down.
If you do decide that a semi-custom cover is for you, the next step will be to measure your Boston Whaler to ensure the best fit for your boat. It is never a good idea to rely solely on the manual for these measurements, as after-market add-ons can change everything. Centerline length and beam width are the 2 measurements that will be required to find the right semi-custom cover for your Whaler model.
Measuring Your Boat For a Cover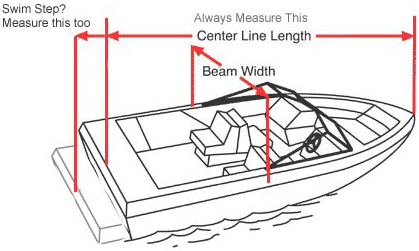 Centerline Length – measure from the tip of the bow all the way to the stern in a straight line.
Beam Width – from side-to-side at the widest point of your boat.
Additional Features – don't forget to take take these into consideration when measuring for a cover, which include the length of the trolling motor, jack plate, center console, bow pulpit and swim step.
Picking the Perfect Fabric
Depending on the weather and general climate, you should select a boat cover accordingly. Carver and Westland both offer a variety of Boston Whaler boat covers in fabric choices that vary in breathability, mildew resistance and water repellency.
High Humidity Levels: If your climate is predominantly hot and humid, you will need to select a fabric with high breathability and mild-dew resistance. When it comes to protecting your Boston Whaler in this environment, Sunbrella is the number one fabric choice of boaters all around the world for over 50 years. This top-grade marine fabric holds its vibrant color, even with constant exposure to the sun and is highly resistant to mold and mildew.

Heavy Rain and Colder Climates:

In the case of heavy rains and even heavy snows, you want to choose a fabric that ranks high for water repellency, such as Sharkskin Supreme. Don't forget to add a support system to your purchase when in wet and snowy climates as even the highest marine-grade fabrics recommended for these climates can tear when water or snow pools for extended periods of time.

Hot and Dry: If your weather conditions are predominantly arid, Sunbrella would also be an excellent choice in these conditions it fairs well in extreme heat. However, SunDura would be another good option as it is known to last for many years in theses climates and is lighter on the pocket than Sunbrella covers.
Choosing the right boat cover can often be as challenging as buying a boat, that's why we have put together a comprehensive boat cover buyers guide. We want to make your boat cover shopping experience a pleasant one and our team of friendly customer service staff are on hand to help you make the best decision that will keep your boat in tip top shape for many years to come.
Here's to Savvy Boating!