Posted by Aaron on January 26, 2018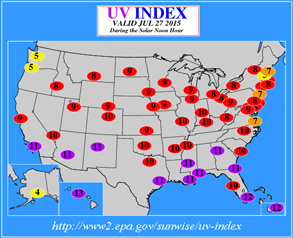 Summer means being outdoors. It means soaking up the sun and having fun. It means getting out on the water with friends and family. Yet, as any doctor will tell you, we have to protect ourselves from the sun's dangerous and damaging effects.
However, out on the water, options to protect yourself and your family from the relentless summer sun are limited. But it is absolutely critical that you try. The cumulative effects of sun damage can result in premature aging, wrinkles, skin blotches, and skin cancer. In fact, skin cancer is the most prevalent form of cancer among Americans. But there are steps you can take to protect yourself and your passengers.
The first thing you can do is check the EPA's UV index on their website before leaving home and then plan accordingly, based on the recommendations for the UV exposure level in your area. It is, of course, important to remember that being on the water increases your exposure level by up to 25%. So once you've checked the UV index, you'll want to remember the 5 S's. Slip, Slop, Slap, Seek, and Slide:
Did You Know?

Being on the water increases your exposure to the sun by up to 25%. Water not only reflects light, it also reflects the sun's harmful UV rays.

Slip on sun-protective clothing
Slop on SPF30+ and re-slop it on every 2 hours
Slap on a boad-brimmed hat
Seek shade (especially during peak UV hours between 10 a.m. and 4 p.m.)
Slide on wrap-around sunglasses with UV protection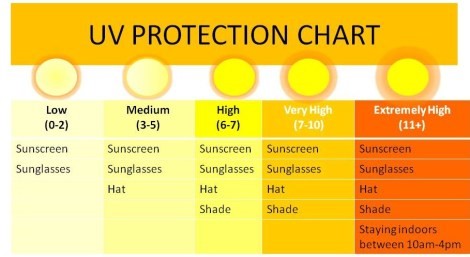 However, of all these recommendations, there is no substitute for finding shade and just getting out of the sun completely, according to uvawareness.com. One guaranteed way to provide that vital shade for yourself and your loved ones while boating is with a boat canopy, or bimini top. They provide constant shade for multiple passengers. With a bimini top boat shade, you don't have to worry about holding on to an umbrella or losing your hat in the wind. You don't have to go hunting for shade, because it's right there on your boat. Bimini tops are made of UV resistant materials that provide both durability and protection, thus effectively taking the quest for shade out of the equation when deciding how long to stay out on the water.
Bimini tops are manufactured in many sizes and configurations to fit almost any kind of boat. I even found a video of a guy who attached one to his kayak. In addition to standard bimini tops, we carry many variations to suit whatever purpose you may have in mind: pontoon boat bimini tops, wakeboard tower bimini tops, sport bimini tops, and even bimini tops for inflatable boats. Whatever you're doing out on the water, limiting your sun exposure is clearly important. What better way to do that than by taking the shade with you?
Already have a bimini top on your boat? Leave a comment about how it's improved your boating experiences. Or been thinking about purchasing one? Ask us your questions.