Boston Whaler Boat Cover | 13'6"-14'5" x 72" | Westland | W9714X
Westand's styled-to-fit boat covers are designed to accommodate all popular hull styles and boat configurations of Boston Whaler Boats. Westland covers are highly fitted to accommodate the primary characteristics of the Boston Whaler Boat style and size, which allows for trailering when properly installed and tied down. A great alternative to a Custom boat cover!
Fits
Whaler boats with small console
13'6"-14'5" center line length, 72" beam width, Outboard
Accommodates side or center consoles
Works with bow rails up to 18"
Bow Rails|Center Console|Side Console
Boat can be trailered with cover installed
Construction
Designed to fit a specific boat type
Tie-down loops sewn into the hem for securing cover when trailering
Two vents are included on the cover to decrease moisture and mildew build up
Reinforcements are sewn into cover to protect against wear points
Draw rope sewn into hem for a snug fit
Outboard models feature motor cutout (some include separate motor hood, contact Westland for more details)
Made in North America
Fabric Guide
| Name | Type | Construction | Weight | Warranty | Climate | # Color Choices |
| --- | --- | --- | --- | --- | --- | --- |
| Sunbrella (Best Warranty) | Custom, Semi-Custom, Bimini Tops | 100% Solution Dyed Acrylic | 9.25 oz | 10 year | All Climates | 20 |
| Sharkskin Supreme (Most Popular) | Custom, Semi-Custom | 100% Solution Dyed Polyester | 7.5 oz | 7 year | All climates | 5 |
| Sharkskin Plus (Most Economical) | Custom, Semi-Custom, PWC | 100% Marine Grade Polyester | 6.5 oz | 5 year | All climates | 10 |
Fabric Comparison Chart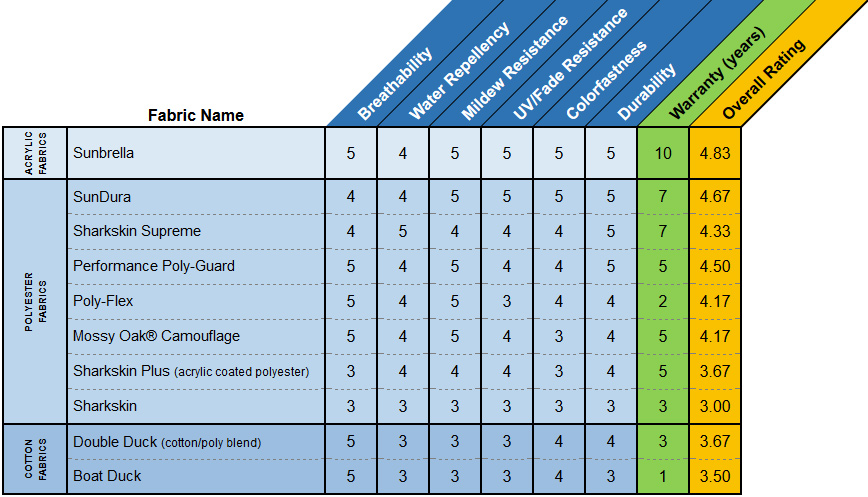 Warranty & Installation
Westland Boat Cover Installation Video
Shipping
Leaves warehouse in 7-10 business days
About Westland
Westland has been in the boat cover business for nearly 30 years and is a trusted name in the canvas industry. Their "Select-Fit" semi-custom boat covers are patterned in 1-foot length increments as compared to other covers of this type made in 2-foot increments, meaning you'll get a better fit without the added cost of a custom cover. Westland knows how to provide the best rain and sun protection for you and your boat and offers high quality workmanship.
Return Policy
Westland boat covers are non-returnable