Taylor Made has been focused on new technology, customer satisfaction, and an attention to detail for over 100 years. Read More ⏩
Excellent value
Simple to use & maintain
Variety of specialty fenders
Great warranties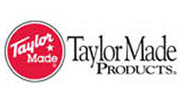 "Have always been a fan of Taylor made products and especially with these "lifetime warranty" boat bumpers,... look great and protect the sides as they should." – E.Z.
"... Very happy with the product and expect I won't need to replace them for a couple decades!" — Renee
ABOUT TAYLOR MADE
Taylor Made offers a variety of specialty fenders and accessories for your boat at competitive prices. Taylor Made has been focused on new technology, customer satisfaction, and an attention to detail for over 100 years. After many years of innovation, the result is a superior product with competitive prices. Taylor Made uses high quality materials and specially designs their products to last in the toughest conditions.
Questions?

We've got you covered!
Live Chat with a
SavvyBoater rep!

Call SavvyBoater
at 866-560-1330
7am - 4pm PST
Monday - Friday

No time to call or
chat? No problem!
Send us an email.