Solas boat propellers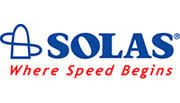 Every time you hit the water, you know you're getting high performance and premium quality at an excellent value with Solas Propellers. Composed of the highest quality metals with a wide selection of different propellers, Solas is one of the leading brands in the boat propeller industry. Two foundations that set Solas apart from other brands are the unique casting process that helps yield stronger, thinner, and smoother blades, and their specially designed, rubber-modeled octagonal hubs that increase vibrational absorption and reduce slippage.

find Solas propeller

customer testimonials

"I have had one for about a year. I'm still trying to wear it out! It is very shiny and never shows rust spots so I doubt it is as hard as some others… Good prop for the money and a lot of options." — 27contender

"I just bought a Solas Rubex (propeller)... why did I wait so long? Went from a Vortex to Solas, can truly tell the difference." — GSH55

about Solas

One of the most well-known and trusted names in propellers and impellers for personal watercraft vehicles, Solas continues to make advances and improvements in propeller quality and performance. Each of the boat propellers are constructed of high chromium stainless steel or strong, squeeze-cast aluminum, in addition to their plastic propellers which are suitable for smaller vessels.

The popular Solas stainless steel propellers provide excellent cruising performance, high speed application, high power applications, and many other enhancements to your boat. The Solas aluminum alloy propellers are also unique because they exceed regular stainless-steel propellers in terms of thinness, corrosion resistance, and quality. Long term durability studies have even proven Solas propellers' resistance against rust and corrosion to outperform all the others in their class.

Solas takes pride in the research and development taking place in order to deliver the highest quality of products to its customers. Through the combination of propeller theory, quantitative data, and realistic field-testing technologies, Solas manufactures a wide range of products that completely satisfy every customer requirement. With over 1,000 blade variations of material, style, size, and pitch, Solas propellers are a great choice for a wide range of different boats and motor vehicles.

At the forefront of design excellence and quality manufacturing, Solas is one of the leading brands in the boat prop industry. Founded in 1986, throughout the years Solas has maintained its reputation as a consistent and committed manufacturer of quality boat propellers. They believe in their products and their ability to improve the experience of all water-craft recreation, boating, and water sports.

Thanks to their outstanding R&D team, Solas is constantly searching for areas of improvement on existing technologies. During their manufacturing processes, Solas implements:
Propeller theory
Quantitative data analysis
Realistic field testing technologies
At Solas, enforcing strict quality control standards is a must. Across production, balancing, and testing procedures, high standards ensure the most optimal level of performance and quality for each propeller. Two mainstays that work to set Solas props apart from other brands are:
A unique casting process that yields stronger, thinner, and smoother blades
Specially designed, rubber-molded octagonal hubs that increase vibrational absorption and reduce slippage
For any further questions about choosing your Solas brand prop, we encourage you to pick up the phone, chat with us online, or send us an email. We'd love to hear from you!