PowerTech Boat Propellers
find your powertech propeller
PowerTech is internationally known for their extensive line of high performance props.
Strong customer service
Stainless steel propellers
Solid cast (no welded blades)
Unique geometry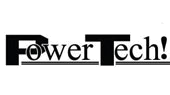 "...recently installed a OFX4 blade 19 pitch prop and a 6" Bob's jack plate on my ... I love them. The boat gets up quicker, handles better, and is able to get up in about 16" of water. I am very impressed with the performance." — Ray C.
"I have done 4 hours with the new prop. Difference is huge when we look at the fuel consumption. The boat performs very well - stable on turns and good acceleration with just 8 seconds from 0 to 20 knots, even top speed is good at 5500 rpm." — Stigolof L., Finland
For over 30 years, Powertech Propellers has designed and manufactured top-quality marine craft propellers. Fabricated from stainless steel, they are an optimal choice to replace Honda, Suzuki, Yamaha and Volvo components. No matter what brand of motor is installed inside your boat, Powertech has a propeller that will match it perfectly to give you additional agility, power, speed and stability when you're out on the water.
Upgrading to one of these sturdy, high-performance products means that you see immediate improvements. Your turns become much steadier, and your acceleration rate improves noticeably. Many boaters also report faster tops speeds inside their crafts with these replacements. The secret to their better performance? The construction. Previously, manufacturers used a process by which individual blades were welded on to a central hub. However, technologies have advanced dramatically in the last few years, and Power Tech Propellers are all solidly cast in one piece. This increases their durability, so they're less likely to break down, come apart or experience corrosion. Moreover, they feature a unique geometrical design that enhances function and efficiency.
Once you've selected the model, horsepower and year of your craft's motor, you'll find a wide variety of items from which to choose. With so many models available, it's easy to find what you need by parameters such as the pitch, number of blades and rotation direction. Equip your boat with all-around use propellers, or versions specially designed for extreme elevations, larger boats and heavy loads.
When you purchase one of these Powertech models from us, you not only get superior-grade products but the care and support of an excellent customer service team. We're here for you before, during and after the sale. Count on us to answer your questions and guide you to the ideal propeller for your craft. You'll find that outfitting your boat with Powertech Props is one of the best decisions you've ever made.
questions? we've got you covered